What Olympic athletes REALLY eat (Lots of red meat, fruit... but also rich desserts)
2 July 2012 | Admin
While most Olympic athletes people see on television appear trim and often even slim, the road to the Games for many of them is paved with a stunning quantity of food rich in proteins and carbohydrates.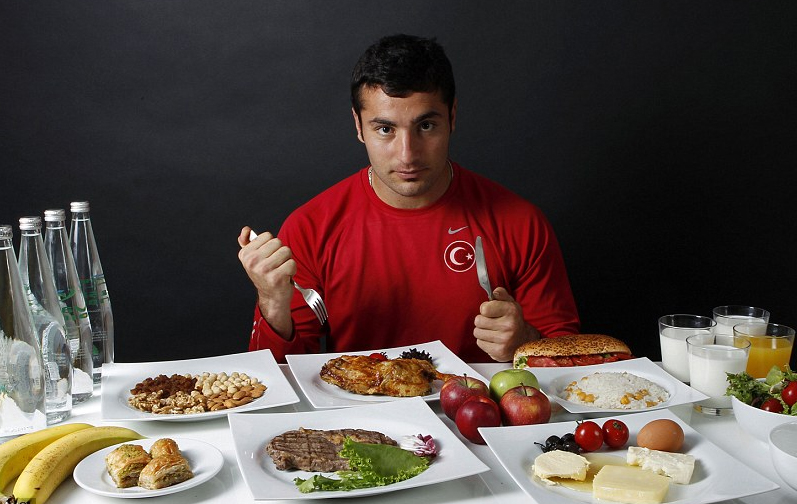 Turkish javelin thrower Fatih Avan says he is mindful of what he puts in his stomach while training for the 2012 Olympic Games in London.
'I may have become an elite athlete with my good performances but I can only be a great athlete if I can win an Olympic medal,' he said.
Massive meal: Turkish javelin thrower Fatih Avan, 23, has a nutritional program that gives him a daily intake of 3,500 calories.
Turkey is taking a team of 85 athletes to the Olympiad, a record number for the Eurasian nation of nearly 75million - and dozens of young male and female athletes around the country are now busily training, like Avan.
The 23-year-old complements his rigorous training schedule with a nutritional program which gives him a daily intake of 3,500 calories - mostly derived from protein.
'A good diet is essential for power. A correct and consistent diet proves its value in my training,' he said.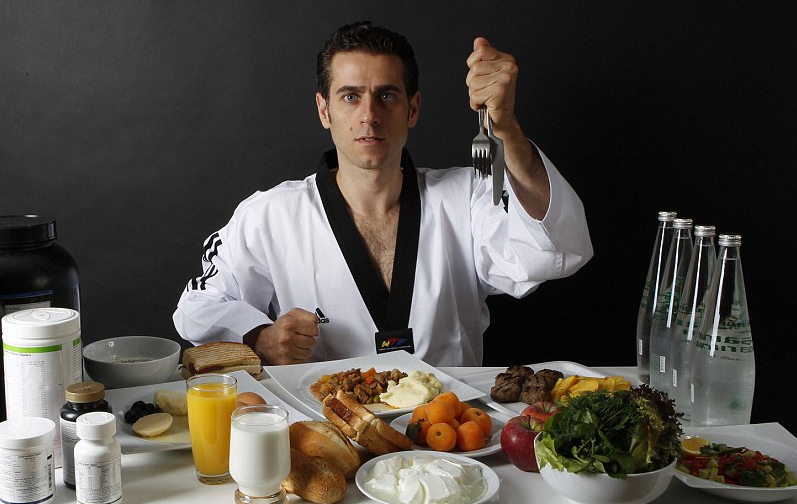 Taekwondo fighter Bahri Tanrikulu is a three-times world champion and an Olympic silver medalist. The 32-year-old has his heart set on a gold medal at the London Olympics that will kick off on July 27.
Extra help: Taekwondo fighter Bahri Tanrikulu, a three-time world champion and Olympic silver medalist, supplements his 3,000-calroie diet with multivitamins and aids
He supplements his 3,000-calorie daily diet with legal ergogenics - performance enhancing supplements - and multivitamins.
A firm believer in the merits of permissible ergogenics, Tanrikulu says: 'If I did not take these supplements, I would have to eat several kilos of meat, and dozens of pieces of fruit to meet my daily protein and vitamin requirement.
'If I had to obtain the calories my body needs through natural foods, I would have to spend all my time eating instead of training.'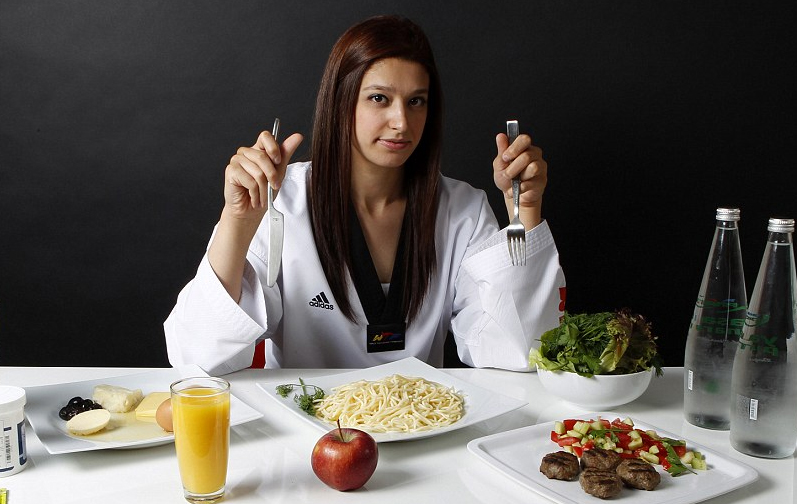 Downsizing: Taekwondo fighter Nur Tatar is on a strict 1,500 calorie-a-day diet to shed several pounds before the Games
Nur Tatar, 22, is also preparing to compete for Turkey in the Games. This is her first Olympic event in taekwondo, and she is on a strict diet to shed several pounds to reach the exact weight category in which she will fight.
To accomplish her goal, she has reduced her daily calorie intake to mere 1,500 calories.World champion weightlifter Mete Binay, aged 27, fuels up on a whopping 3,500 calories a day. He drinks at least two glasses of milk a day, and his diet is largely composed of red meat.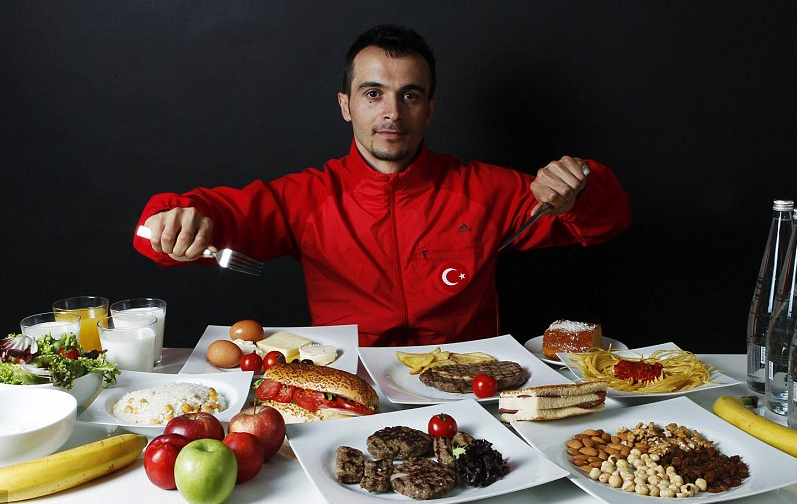 Super-sized spread: Weightlifter Mete Binay consumes 3,500 calories daily in the form of red meat and desserts
Binay indulges in sweet desserts and takes care never to miss a full breakfast. The weightlifter is also fond of organic food.Shortly before competition, he too starts supplementing his diet with ergogenic aids and vitamins.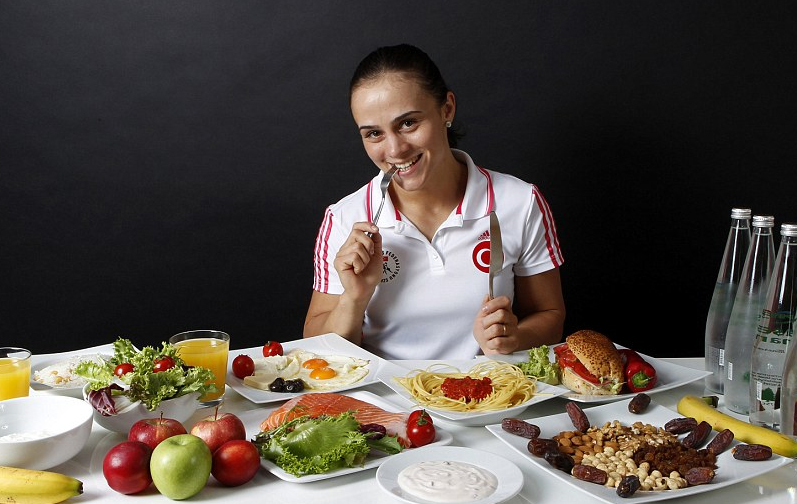 Wrestler Elif Jale Yesilirmak, 26, adheres to a 3,000 calories-a-day diet, but her dietary program has a twist.
'Instead of red meat, I generally eat salmon,' she said. 'I believe fish is more healthy and nutritional. And also lots of water. I drink a minimum of five liters (more than a gallon) of water every day.'
Healthy choice: Female wrestler Elif Jale Yesilirmak fuels up on 3,000 calories a day, but prefers salmon to red meat, with plenty of water on the side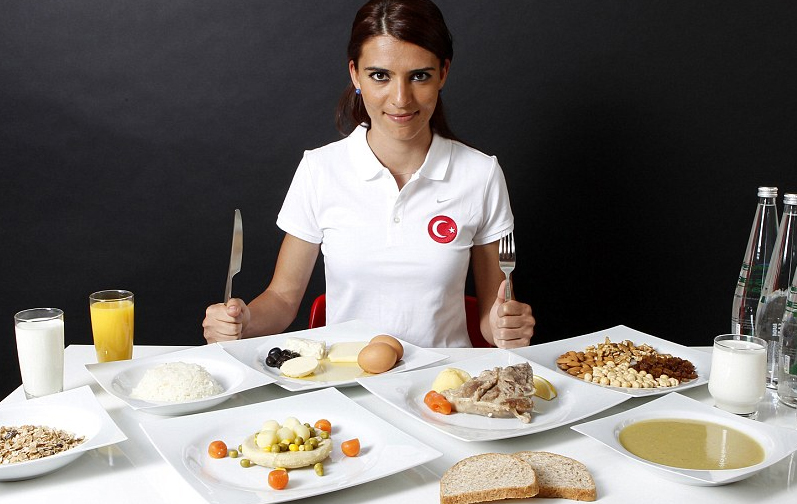 Merve Aydin, 22, is an 800-metre athlete who will run at the Olympics for the first time. Her daily intake is 3,000 calories. Although she is rigorously training for the Games, she remains guarded on the outcome.
'It is more important for me to realize my true potential and limitations. And do the best I can. I work hard and keep a careful diet,' she said.
Fine dining: As part of her Olympic training, Turkish 800-metre Merve Aydin takes in 3,000 calories daily